Stunning Interior Panel Doors & Custom Interior Doors
At
Traditional Door
, we know how to make an exceptional wood door, and for years we have provided quality interior panel doors and custom interior doors for
customers
across North America. We build our custom doors with high-quality materials, and our
craftsmen exercise extraordinary attention to detail
in every case.
A great custom interior door can make an incredible first impression.
As one of Canada's leading manufacturers of interior stile & rail panel doors, we are committed to providing beautiful results with fast turnaround times. Our custom doors, both interior and exterior doors, are available in a variety of styles. We offer products for stain-grade and paint-grade applications. Choose from dozens of options or tell us exactly what you want in your custom wood door – our team is always ready for custom projects, and you'll always take pride in your purchase.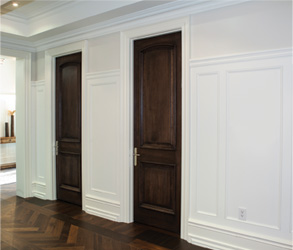 Features of our custom interior doors include:
Raised or Flat Panels
Sticking, Raised Moulding and Inset Moulding Options
Custom Doors and Standard Sizing Options
Engineered or Solid Stile Construction
Our stainable custom doors are available in a variety of materials including cherry, mahogany, pine, poplar, oak, maple, walnut, and other wood species. Because we carefully source our wood, we are able to provide consistent results, regardless of your design choices.
We're here to help
To get started, contact us today for a quote or for more information.