Stunning Interior Panel Doors & Custom Interior Doors
At
Traditional Door
, we know how to make an exceptional wood door, and for years we have provided quality interior panel doors and custom interior doors for
customers
across North America. We build our custom doors with high-quality materials, and our
craftsmen exercise extraordinary attention to detail
in every case.
A great custom interior door can make an incredible first impression.
As one of Canada's leading manufacturers of interior stile & rail panel doors, we are committed to providing beautiful results with fast turnaround times. Our custom doors, both interior and exterior doors, are available in a variety of styles. We offer products for stain-grade and paint-grade applications. Choose from dozens of options or tell us exactly what you want in your custom wood door – our team is always ready for custom projects, and you'll always take pride in your purchase.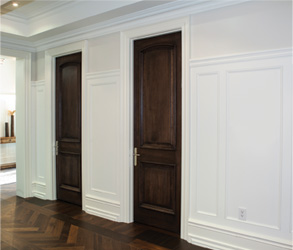 Features of our custom interior doors include:
Raised or Flat Panels
Sticking, Raised Moulding and Inset Moulding Options
Custom Doors and Standard Sizing Options
Engineered or Solid Stile Construction
Our stainable custom doors are available in a variety of materials including cherry, mahogany, pine, poplar, oak, maple, walnut, and other wood species. Because we carefully source our wood, we are able to provide consistent results, regardless of your design choices.
Frequently Asked Questions About Custom Interior Panel Doors in Toronto
What are the most common types of custom interior panel doors?
+
There are many different types of panel doors, but the most popular options include single, double, three-panel, four-panel, and six-panel doors.
What is the difference between a panel door and a flush door?
+
Panel doors are more decorative than flush doors in that they use multiple pieces of wood for ornamentation. A flush door, on the other hand, is constructed from a single piece of solid wood.
What is the standard size for interior panel doors?
+
Most interior panel doors measure 80 inches high. They come in various widths, however, ranging from 24 inches to 36 inches.
How thick is an interior panel door?
+
Most interior panel doors measure 1-3/8 inches thick, but larger doors may need to measure upwards of 1-3/4 inches thick in order to adhere to building codes.
What are the benefits of interior panel doors?
+
Interior panel doors are simple and durable enough to require minimal maintenance, yet decorative enough to add character to any room in your home.
We're here to help
To get started, contact us today for a quote or for more information.