Stunning Millwork for Any Type of Room
Millwork can provide an elegant finish, accenting your ceilings or walls while drawing attention to your home's best architectural features. With
high-quality Canadian craftsmanship and the latest wood manufacturing technology
,
Traditional Door
offers Canada's best resource for standard and custom millwork.
When you work with Traditional Door, you get a professional look with flexible design options. You can work with our designers to choose from a variety of wood species, and, as manufacturing specialists, we are proud to offer custom millwork on request. We build all of our products to precise specifications and use strict quality control procedures. Our designers use the latest CAD tools to deliver the best possible results for every project, regardless of size or complexity.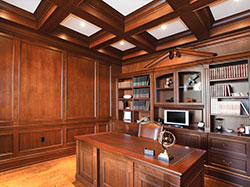 Quality is an important factor for our clients, and our careful wood sourcing process ensures beautiful, durable results. We take pride in our millwork and offer a variety of design choices for every application. If you need help making a decision, our staff is always ready to help you find suitable options for your project.
Whether you need solutions for a single room or for several homes, Traditional Door provides millwork with extraordinary detailing and high-end features.