Custom Exterior Prehung Systems by Traditional Door
At Traditional Door, we know how to make an entrance – literally. We specialize in creating custom exterior doors for all types of homes in Toronto. By carefully sourcing our woods and by committing to a strict quality control process, we have built a strong reputation as Canada's premiere source for gorgeous entryways and custom wood doors.
Our products are available in standard or custom sizes. Eco-friendly features help to insulate your property, and thanks to our extraordinary attention to detail, each of our solid custom wood door systems provides a beautiful accent that is everlasting.
Some of the features of our custom exterior door systems include: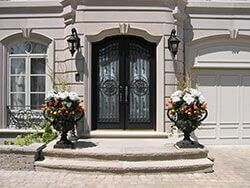 When you work with Traditional Door, you can create an exterior door unit that makes an immediate impression on visitors. Our systems are an excellent way to draw more attention to a property, and our experienced sales team can help you make the appropriate choice for any type of home.
Custom Exterior Door Options
Wood Options for Custom Exterior Doors
Frequently Asked Questions About Custom Exterior Doors in Toronto
How much does a custom exterior door cost?
+
You should budget at least $1,500 – $2,000 for a custom exterior door, and more if you are ordering a premium hardwood, glasswork, or a more detailed design.
Is it cheaper to buy or build an exterior door?
+
It is usually more affordable to purchase a prefabricated exterior door than a custom exterior door. With that said, prefabricated doors are not customized and do not feature the same level of workmanship.
Do custom exterior doors increase a home's value?
+
A custom exterior door increases your home's value and allows you to recoup roughly 75% of what you paid for the door. Not to mention, it makes your home more appealing to potential buyers.
What colour should you not paint an exterior door?
+
There are no rules when choosing a colour for your exterior door. With that said, overly bright colours—such as pink or yellow—may deter potential buyers.
How long does it take to get a custom exterior door?
+
Typically, a custom exterior door will be ready roughly four to eight weeks after the order is placed. However, lead times are dependent on the design's complexity and material availability.
We're here to help
For more information or to receive a quote, contact us today! Submit a form online or give us a call at (416) 747-1992