Exterior Prehung Systems by Traditional Door
At Traditional Door, we know how to make an entrance – literally.We specialize in creating exterior doors for all types of homes.  By carefully sourcing our woods and by committing to a strict quality control process, we have built a strong reputation as Canada's premiere source for gorgeous entryways.
Our products are available in standard or custom sizes.  Eco-friendly features help to insulate your property, and thanks to our extraordinary attention to detail, each of our solid wood door systems provides a beautiful accent that is everlasting.
Some of the features of our exterior door systems include:
Advanced Quality Control Process for Dependable Results
A Variety of Wood Species to Select From
Elegant Glasswork Options
Flexible Design Choices for Doors, Sidelites and Transoms
Complete Package, including Brick Mould, Threshold, Hinges, Locksets and Interior Casing
Factory Finishing with 10 Stain Colours to Select From
Installation Service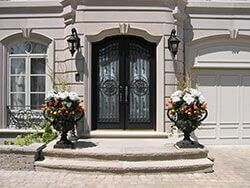 When you work with Traditional Door, you can create an exterior door unit that makes an immediate impression on visitors.  Our systems are an excellent way to draw more attention to a property, and our experienced sales team can help you make the appropriate choice for any type of home.
We're here to help
For more information or to receive a quote, contact us today.