Elegant Interior French Doors with Impressive Glass Selections
Traditional Door Design and Millwork
provides solid wood French doors for all interior applications.
We use beautiful, high-quality woods when building our products
, and our flexible design choices give you complete control over your project.
French doors are a popular option for separating interior rooms, and, when used properly, they can completely change the character of any space. They provide separation while still maintaining a sense of open space. With proper accents, they can also provide an elegant focal point. Interior French doors work especially well in kitchens, dining areas, master bedrooms, and entertainment rooms, but in order to create a balanced look, you need to choose high-quality doors from a reputable provider.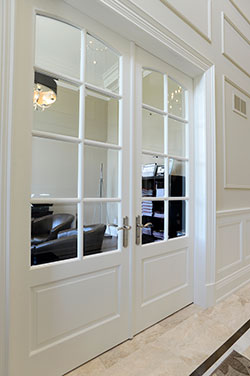 At Traditional Door, we are proud to offer versatile options for every type of property. Outfit modern rooms with a contemporary set of doors to highlight open space or opt for a more elegant look with intricate glass designs. You can also choose from a variety of moulding options, and whether you purchase a standard or custom size, our craftsmen always deliver dependable results.
Door Options
Wood Options
Frequently Asked Questions About Custom Interior French Doors in Toronto
How much do custom interior French doors cost?
+
Custom interior French doors are more expensive than many other styles, as they feature decorative glass designs and accents. You should budget a few thousand dollars for new custom interior French doors.
What is the standard size for interior French doors?
+
The standard size for a single interior French door is 80 inches high by 36 inches wide, but other size options are available when you buy custom doors.
Do interior French doors open inwards or outwards?
+
While most interior French doors open outwards, you can choose the direction that your doors swing when you buy custom.
What is the difference between French doors and double doors?
+
French doors typically feature panes of glass, while double doors are made from solid wood.
Do interior French doors always have glass?
+
Yes, glass is the typically the main feature in a set of interior French doors. It allows natural light to pass from room to room.
We're here to help
For more information or to receive a quote, contact us today! Submit a form online or give us a call at (416) 747-1992